We are absolutely dedicated to raising our (breed type) Chinese Crested in our home, underfoot, feeding them the best diet available and affording them plenty of fresh air and sunshine in a calm but stimulating environment.
You will be provided with copies of all relevant documentation, including such things as completed sales agreements, guarantees, health and vaccination records, and a set of instructions on the care, puppy basic training and diet for the dog.
As a result of their pristine environment, outstanding nutritional care, excellent veterinary care, and our constant research for the best pedigrees, representing the healthiest (breed type) Chinese Crested, we have developed a selective breeding program based on surpassed "Standard of Excellent."
​​​Check our available page for up coming litter or what is available!!!
We don't have puppies all year around, but when we can refer you to responsible breeders almost anywhere in Canada, US and oversea. If you're looking for a puppy, please feel free to email us for a referral to a reputable breeder in your area.
Adoption Info
We impress upon puppy buyers that it is a privilege to own one of our​ Chinese crested, not a right, and also a big responsibility for the lifetime of that dog.
My breeding program only use dogs that are PRA & PLL "CLEAR" (all "carrier" are spay/neuter and never used for breeding).
We happily give new owners of our (breed type ) crested an after-sell support and honest advice on the best way to live and to ease acclimation with their new owners.
We keep our crested in our house, where they are pampered and nurtured as soon as they are born to raise them as happy and social dogs. Our (breed type )crested are sold to families who want to have a simple pet to hug and pamper.
We are very particular about the homes that our puppies go to.
We want them to be members of your family, not just a dog.
You must understand that puppies/dogs sold by us are indoor dogs, and be part of their family.
Our puppies are priced start at $650 to $1000 for our pet quality or $1200+(breeder). We do not differentiate by sex, color, size...
All deposit $300 for pet or $500 for breeding are non refundable.
Kenneling or caging raised puppies are not use at our home all are raised underfoot in a clean loving family atmosphere
​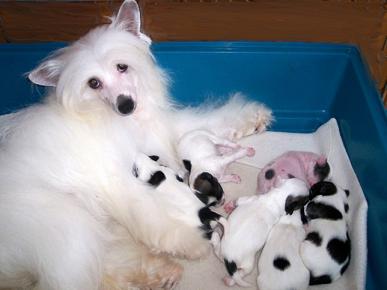 One of our beautiful powder puff mother in full coat with her babies...

Our DEDICATION TO OUR DOGS/PUPPIES are
To each and every puppy born into my hands, both past and future.... I thought long and hard to select your parents, choosing dogs that had the qualities and strengths I wanted, that were health tested, and were proven to be quality example of breed type Chinese crested.
I anxiously awaited your birth, monitoring your mother all the way through her pregnancy. I worried that she would struggle, I worried she would get sick. I prayed you would be strong and healthy foremost, and if you were pretty that was a bonus.
I spent sleepless nights waiting for you to make your appearance into the world, and in some situations spent even more sleepless nights to keep you alive.
I raised you very carefully, with the best of food, love, and a warm and pleasant home. You never wanted for anything.
From your first breath you owned me. I imagined the future, and paid homage to the past that allowed you to exist. I felt proud when you took your first steps, and I felt the pain when you fell down.
I tried my best to make sure you got the best home. I tried to match the best people for your specific personality. In most cases I think I did pretty good.
And although I passed you to your new families with sadness, I knew you would go on to an amazing life with them. So my sadness was made easier by knowing you would complete another person's life. If I didn't feel that, I would never have let you leave my arms.
I loved you from the moment you were conceived, and I will love you until the day I die. No matter where you live, you will always be my baby.
Over the last 40 years my heart has been full and my heart has been broken. And it will keep being that way.

and will see which puppy would be best suitable for your family!!!!!!!!!!